Tribute to Archie Buzzard
Banbury Tennis Club has sadly lost a highly respected long standing club member known to many past and present members, who was a co-founder of the club back in 1973.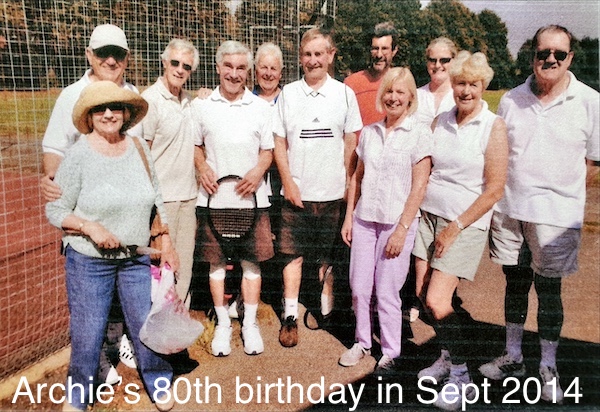 Here is a tribute to Archie the player, volunteer club coach, competitor, club official, Life Member and friend to many.
Archie was employed by the owners Northern Aluminium Company (later Alcan) and was on the committee of their Horton View Sports Ground. When Banbury Town Council became the owners, Archie formed a tennis club with himself and his brother Pete becoming the first members in 1973. The sports ground was then taken over by Cherwell Council (now CDC), Oxfordshire County Council and then back to Banbury Town Council, requiring Archie spending many hours discussing the facilities and rents at many meetings. He was Chairman of the club for a number of years, in the early days, and continued to be involved in the running of the club, as well as being the main club contact for many years.
Initially shale courts, these required sweeping with 'mats', usually by Archie after the evenings play.
Archie played tennis, football, cricket and hockey ALL at the Horton View Sports Ground. He arranged friendly tennis matches with local and county clubs until the club joined the Oxfordshire Leagues. Archie was a competent steady player, usually within teams in the middle leagues.
Volunteering more of his time, he was very active with Junior coaching Friday evenings and Saturday mornings for many years, as well as adult coaching on Monday evenings, until the trained paid coaches took over! He arranged junior matches within age groups, insisting the juniors had their allotted court time in the evenings.
The club made Archie a Life Member in 1999 to recognise his huge contribution to the club.
Later in his playing life, Archie joined in with the popular 'retired and redundant' Tuesday afternoon sessions. When he hung up his racket just a few years ago, he still kept in social contact with the club. Players were used to seeing him cycle round from his nearby home, and continuing to collect the old used tennis balls and tins for his local church funds (an early recycler!).
Over the years, he and his wife Maureen held Friday social nights including food she cooked, he helped organise the annual Tennis and Bowls club competition, and also ran popular quiz nights with his brother Pete.
Archie leaves a huge legacy – sport, and tennis particularly ran through his veins as did the club. His passion for his sport and club showed throughout, and he is remembered fondly by the many past and present club members, many of whom started their playing life with Archie and still continue to proudly say that he coached them, passing on his passion for the game of tennis.
Archie – you will be remembered as an all-round good guy! A true gentleman on and off court.